In an effort to boost the sale of fish in local markets, nationwide, Sierra Fishing Company (SFC) has in collaboration with the Ministry of Fisheries and Marine Resources (MFMR) over the weekend, officially unveiled a newly constructed cold room facility in Kailahun, Eastern Province. The   venture which many described as ''laudable" is expected to benefit the entire Eastern Region especially Kailahun Town, Baoma, Pedembu and other surrounding towns and villages.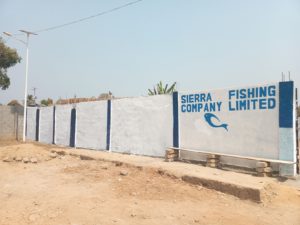 The Facility's main Entrance
Residents in the district are said to have been facing huge challenges in accessing quality and affordable fresh fish and fishery products as a source of animal protein, resulting in high rate of malnutrition, especially in children as well as other health related problems. The gesture is in response to an appeal made by senior management staff of the ministry, including the Minister Hon. Emma Kowa Jalloh , her deputy, Ibrahim Turay, the Permanent Secretary, Mrs. Elizabeth H. Ellie and the Director of Fisheries, Mrs. Kadijatu Jalloh to the Chief Executive Officer of Sierra Fishing Company, last year for an extension of his company's operations to Kailahun.
The CEO of the company, Bassem Mohamed, said his company has been playing a strategic role in promoting Sierra Leone's Fisheries sector for over 3 decades with investment capital worth millions of dollars.  The company, he said has created employment for over 2000 Sierra Leoneans nationwide. He assured the people of Kailahun District that his company will always remain committed to complementing the efforts of    Government by providing quality and affordable fresh fish and fishery products for the people of Sierra Leonean as well as contributing significantly to the country's Gross Domestic Products through the payment of  taxes.
The newly constructed cold room facility is a modern and sophisticated cooling system that operates with  24hrs of electricity supply through a 40 KVA generator. It is located in a conducive environment with a storage capacity that can carry 4000 cartoons of assorted quality frozen fish products.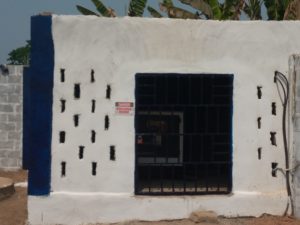 Generator House
The Managing Director (Alhaji Allie) of the cold room facility said the company will soon start producing ice-block and flakes for the Kailahun town and its environs. He promised to provide quality service for beneficiaries   and assured fishmongers of his fullest support.
The well-attended unveiling ceremony was graced by good number of Community Stakeholders and Fishmongers within the district who described the initiative   as a move in the right direction. They expressed confidence that it will address one of their greatest challenges, not least, lack of access to quality fish for their daily consumption.
In their testimonies, some fishmongers said before now, they buy quality   fish products from Kenema town and convey them to Kailahun at high costs and risks. They also cited lack of preservation facilities and power supply in the district as factors impacting negatively on their lives.
By MFMR MEDIA UNIT