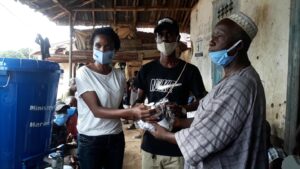 MFMR'S Kadie seaport Kamara handing over Hygiene materials to the Chief of Konakridee
By Princetta Williams
Information Officer, MFMR
As the Ministry of Fisheries and Marine Resources continues its support to government in the fight against the Coronavirus Pandemic, through the donation of Preventive Materials to Fishing communities in the country,   the Ministry has on Thursday 18th June handed over face masks, Disinfectants, Hand sanitizers, Hand wash and waste bins to the Konakridee community in the Portloko District.
Speaking at the handing over ceremony the Deputy Head, Marine Artisanal Unit, Kadie Seaport Kamara said, the gesture is a continuation of what the Ministry has already started in other fishing communities, aimed at ensuring members of the Coastal community remain safe during the crisis period.
She said at a time like this when things are not normal, it is of great importance that everyone follows precautionary measures set aside by the Ministry and health professionals so that the Corona Virus will soon become a thing of the past, adding that they should be washing their hands always and not touch their faces nor shake hands with others.
Kamara ended up admonishing them to always practice sustainable fishing methods and refrain from the bad ones that serve as impediments to the efficient and effective management of the fisheries sector.
The items were formerly handed over to the Town Chief of Konakridee who received them on behalf of the people followed by a demonstration on the use of a customized Hand wash Milla Tank..
Receiving the Items from the Ministry of Fisheries and Marine Resources, the Town Chief Pa Adikalie Sorie Suma thanked the Government for considering them and promised to make sure that the items are used for the right purposes, while calling on the community to handle them with proper care and stay safe always.
The Master Fisherman in the Konakridee community Ibrahim Kargbo also appreciated the gesture from the Ministry, citing that the relationship between the Community Management Associations and the Fisheries ministry, over the years, remains cordial and mutual.
He however cited some challenges, especially in the area of collection of licenses fee due to the coronavirus epidemic and the setting up of a Fishermen Consortium which according to them runs parallel with their organization, thereby making them dormant.
Fisheries Officer at Konakridee,   Malo Johnson appreciated the team from Ministry for the donation and encouraged the beneficiaries to always   wash their hands use Sanitizers and use the items for their intended purposes.
The ceremony brought together community representatives, Fisher men, Fish Mongers, members of the Community Management Association (CMA), and Sierra Leone Navy, among others.
Similar donations have been made to different fishing communities, namely, Goderich, Bo, Shenge, Tombo, Bondapi, Makali. The exercise   is expected to be undertaken nationwide
Click here to change this text