The Minister of Fisheries and Marine Resources, Emma Kowa Jalloh has expressed shock and dismay over what she described as "wanton destruction and unsustainable exploitation of the country's fisheries resources."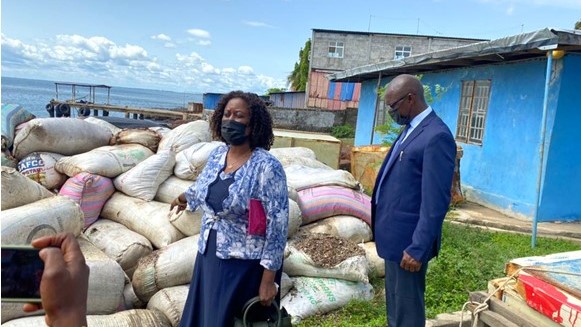 She made this statement at Sunhu Fishing Company, Murray Town while inspecting a huge pile of Juvenile fish and an Artisana Fishing Vessel arrested by staff of the ministry whilst on surveillance in Bonthe district recently.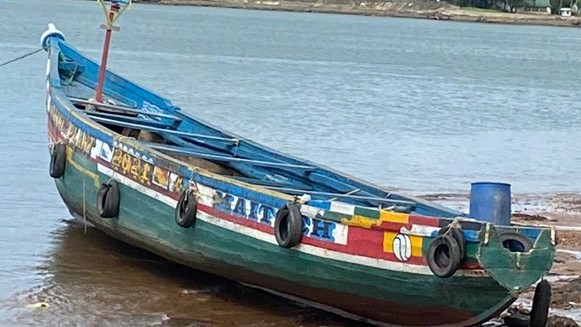 The impounded boat was arrested while carrying One hundred and ten bags of Juvenile fish allegedly to neighboring Guinea and Senegal for sale.
Mrs. Kowa Jalloh, said, the purpose of the exercise was to ensure the illegal practice is stopped. She described the effects of the crime as devastating, saying, if it continues unabated, will lead to shortage of fish in the country. Those engaged in this unpatriotic practice she said, must know that they are destroying their livelihood and admonished them to stop forthwith as the ministry will leave no stone unturned in pursuing and bringing them to book.
Fisheries Officer in charge of Bonthe Fisheries Outstation, Peter Momoh, who led the surveillance operation, said the boat was arrested on the 20th of June 2021, at Mania along the Bonthe Estuaries. On seeing them from afar, he said, the rest of the crew onboard the boat fled, leaving the Captain behind who was later arrested together with the boat and brought to shore.
Deputy Minister of Fisheries who was also at the scene, lamented at the rate the illegal practice was going on in the country and re-echoed government's determination to curb it. He assured that culprits will be speedily brought to book to prevent recurrence.
Head on Marine Artisanal Unit in the ministry, Victor Kargbo, described the rate at which illegal fishing is going on in the Artisanal Fisheries sector as "alarming" and called for robust and sustained control, monitoring and surveillance measures that would deter, eliminate and prevent the illegal practice.